News
Wagner earns wine group top honor - Charles J. "Chuck" Wagner helped turn a few grape vines behind a barn into a leading Napa Valley winery and an expanding California wine empire.
Mr. Wagner was just 19 in 1972, when he helped form Caymus Vineyards with his parents. In a decade or so, the Rutherford winery emerged as one of the most coveted Napa cabernet sauvignon and today is the cornerstone of the Wagner Family of Wines. The company is, literally, a family. Mr. Wagner's children head up other brands.
Mr. Wagner was honored at the American Wine Society national conference this month in Tysons Corner, Va., with the organization's Award of Merit, the group's top award for a wine professional in recognition of a lifetime of contributions to the industry. Hearing his acceptance speech about his family's farming roots going back 160 years, it's clear Mr. Wagner represents this era of Napa's transition from diverse farming region to world renowned wine region.
Caymus is cab royalty, a favorite of collectors and cab hounds that can be had for about $80. I would avoid the mediocre 2010 and 2011 vintages. At the awards banquet, 650 attendees had the opportunity to try Caymus' 2009 Special Selection Cabernet Sauvignon which weighs in at about $160.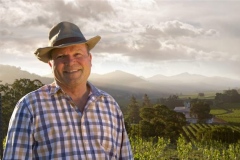 For as good as Caymus cab is, the special selection takes your breath away. Only made in great years, it combines an intensity of fruit with chocolate notes, and cedar and balanced tannins.
Just as Caymus is an archetypal Napa Valley cab, the Wagner family is great at making other types, or categories, of wines consumers love. For example, purists say Belle Glos Pinot Noir isn't an accurate example of pinot noir. But the silky, luscious wine goes down like cherry pie filling for $40.
Mer Soleil is an over-the-top buttery, oaky chardonnay, the sort that still commands a large audience. Mer Soleil Silver is unoaked and comes in a gray ceramic bottle. Then there is Conundrum, the mysterious white blend. (The Wagner family is tight-lipped about what grapes they use.) Conundrum is well-made wine, sweet for my taste, but delicious in small doses. It's a deal compared to other Wagner wines at about $25.
Emmolo is another line made from Napa Valley's non-signature grapes such as sauvignon blanc and merlot at about $40.
Close