News
LYNCH-BAGES BUYS HAUT-BATAILLEY
Pauillac fifth growth Château Lynch-Bages has acquired fellow Pauillac fifth, Châtau Haut-Batailley for an undisclosed sum.
Lynch-Bages, owned by the Cazes family, has bought the entirety of the estate spanning 40 hectares (including 22ha of vineyard) and the technical facilities from the Brest-Borie family, which has owned Haut-Batailley (pictured) since the 1930s.
Jean-Charles Cazes, general manager of Lynch-Bages, said: "Château Haut-Batailley is a magnificent property that has always produced great wines. We're particularly happy that it has passed between two families who have friendly relations and know each other well.
"This acquisition will strengthen our presence in Pauillac with the aim of undertaking a project distinct from Lynch-Bages. In order to respect the estate's identity and the integrity of its vineyard, the property will be managed independently and have its own dedicated team of technical experts."
François-Xavier Borie, added: "We are delighted that Château Haut-Batailley has been accepted into the fold of the Cazes family, who are committed to continuing the work undertaken at the estate. We're confident that they will maintain the identity and character of the property."
The acquisition is a substantial investment by the Cazes family, which, just last year, announced it was renovating the cellars at Lynch-Bages in a two-year project that will be overseen by Chinese-American architect Chien Chung Pei.
Furthermore, it is a comparatively rare event for a classed growth in Bordeaux to change hands, especially in a commune like Pauillac, which has some of the most expensive land prices in Bordeaux (€2 million per hectare according to 2015 figures from the Société d'aménagement foncier et d'établissement rural (SAFER)).
The news comes soon after the announcement that St-Estèphe second growth, Cos d'Estournel, had bought neighbouring property Château Pomys from the Arnaud family.
Pomys used to be the home of Cos' founder, Louis Gaspard d'Estournel. Current owner, Michel Reybier, told the drinks business that the acquisition was: "Part of a broader vision to preserve Cos d'Estournel's heritage, the acquisition of Château Pomys is a reference to the estate's history. It aims to recreate the architectural ensemble originally conceived by the founder.
"By bringing together its two fundamental elements, the estate is restored to its original composition: Cos d'Estournel remains a palace dedicated to winemaking and Pomys has once again become the inviting home of its founder."
As well as 12 hectares of vineyard, Pomys has a hotel and restaurant with 10 bedrooms. Whether this will continue however is not known as Reybier already owns several luxury hotels in Paris and Geneva, as well as having a guesthouse at Cos d'Estournel itself.
TECHNOLOGY FOR THE VINEYRAD
Château Lynch-Bages began carrying out a survey with the Telespazio company, a branch of the Thalès group, using aerial detection. Objective: to achieve an ever more fine-tuned vineyard management.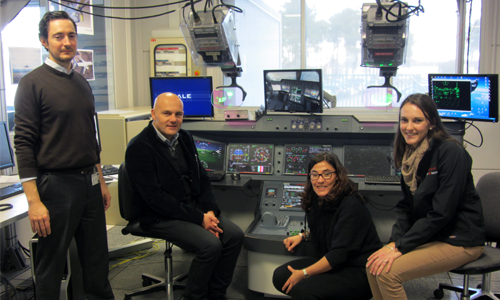 Based on cartography created through images taken from the sky by drones and microlights, the aim of this survey is to acquire more in-depth knowledge of the vineyard, and to adapt vineyard practices (notably geo-localised fertilisation and canopy management) as well as selective harvests.
Nicolas Labenne, technical director of Château Lynch-Bages says:
« The concept proposed by Telespazio, EarthLab & Millésime, enables us to obtain an extremely precise analysis of the crops in the vineyard. This technology should allow us an even deeper understanding of our 50 types of soil. For us, it's also a matter of carrying out a general assessment in a bid to optimise our renewal policy. »
Read More
Close