News
MIGUEL A TORRES GIVEN LIFETIME ACHIEVEMENT AWARD BY DB AND IMW
Torres was given the award at a ceremony at Vinexpo in Bordeaux at lunchtime today where members of the wine industry gathered to honour his lifelong contribution to the trade.
The award recognises an outstanding and inspirational figure in the world of wine whose enduring contribution spans a whole career, and has previously been presented at Vinexpo Bordeaux to Robert Mondavi (2005), Marchese Piero Antinori (2007), Jean-Michel Cazes (2011) Baroness Philippine de Rothschild (2013), and Hugh Johnson OBE (2015).
Introduced by Patrick Schmitt MW, editor-in-chief of the drinks business and presented by Jane Masters MW, chairman of the Institute of Masters of Wine, Miguel was delighted to receive the recognition.
Commenting after the announcement was made, and following a lengthy applause, he said, "I am of course extremely proud and honoured, and would like to thank the Institute of Masters of Wine – the chairman, the IMW team, the drinks business and of course all Masters of Wine – for this Lifetime Achievement Award.
"I especially would like to highlight the extraordinary work, effort and dedication of our worldwide Torres team and my family. They all actually made it possible where we stand today as a winery. But allow me to give a very special thank you to my wife Waltraud, who helped build our winery (and the German market!) and raise our three children – Anna, Mireia and Miguel – and of course my sister Marimar and my brother Juan-Maria."
Born in Barcelona in 1941, Miguel A. Torres is the second son of Miguel Torres Carbó and Margarita Riera.
In 1957 he began his studies at the University of Barcelona (Chemical Sciences), and in 1959 he moved on to the University of Dijon (Burgundy), where he specialised in Oenology and Viticulture.
In 1962, he joined the family business, and currently serves as the president of the company.
In 1967 he married Waltraud Maczassek. It was decisive that his wife was German as Waltraud Maczassek initiated and directed exports to Germany, which today is one of the most important markets.
In addition to English and French, he speaks an acceptable German and has also studied Japanese and Russian for several years.
He has written several books, the most recognized being "Vineyards and Wines" which was published in 1977 and which is now in its seventh revised and updated edition, available in Spanish and English.
In 1996, he was honoured by the Chilean government with the Grand Official of the Order of Bernardo O'Higgins, in recognition of his services to improve the relations between Spain and Chile, as well as for his contribution to the wine sector development of this south American country.
In 2012 Miguel A. Torres received the Order of the Lion of Finland, the highest decoration the Finnish government can grant to a foreigner.
His concern for climate change and ecology has been recognized internationally, including by the drinks business, which honoured him at The Drinks Business Green Awards in 2011.
In May 2013 Miguel A. Torres received the Golden Plaque of the Civil Order of the Agricultural, Fishing and Food Merit (Placa de Oro de la Orden Civil del Mérito Agrario, Pesquero y Alimentario), awarded by the Council of Ministers of Spain.
He has 3 children, Anna, Mireia and Miguel.
TORRES SERVED TO OBAMA IN CUBA / Torres' 'Milmanda' 2012 and Vega Sicilia Unico 2007 were among the wines served to President Barack Obama on his trip to Cuba this month.
On 21 March Obama became the first US president to visit the Caribbean island in nearly 90 years as diplomatic relations between the two countries continue to ease. At the official state dinner at the Palace of the Revolution in Havana, Cuban President Raúl Castro served his guests a selection of Spanish wines.
Torres' Chardonnay from the Conca de Barberà DO was paired with the first course, a cream soup seasoned with 'Caney' rum and garnished with ham slivers. Meanwhile, the 2007 Unico was served alongside an oven-roasted suckling pig with tamales and plantain chips.
Miguel Torres Maczassek, general manager of Bodegas Torres, explained that his great-great-grandfather, Jaime Torres, had spent most of his youth on Cuba before returning to Spain to found the winery in 1870.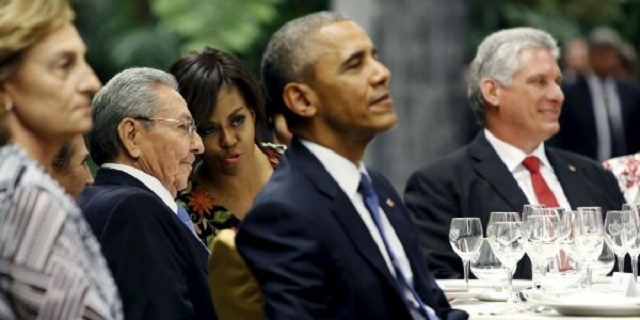 Torres creates a microvinification winery to study revived ancestral varieties / The new facility will also focus on research projects related to climate change and indigenous yeasts
The biggest news this harvest season was Bodegas Torres's unveiling of a winery dedicated to microvinification. The new facility located in Pacs del Penedès will allow for more in-depth research in the study of revived ancestral varieties. In addition, it will work on improving quality and the vinification process as well as developing very limited-edition wines.
The winery occupies a 370 m2 space divided into two areas, which are equipped with the latest technology to carry out small-scale vinification, ranging from 5 to 1000 liters. Conditions at the facility mimic those found in bigger wineries, but offer greater flexibility when it comes to conducting different kinds of vinicultural tests and experiments. The fixed tanks are equipped with cooling jackets and an automatic temperature control system. The portable tanks, used for small batches under 50 liters, are placed in insulated chambers that can maintain various temperature settings simultaneously to ensure the correct fermentation of the musts. The winery is also fully equipped for harvest reception and has several small-scale presses and a bottling line on site.
At this new winery, a team of 3 to 7 professionals, depending on the time of year, will centralize all of the research projects the company has been working on for the past two decades. Currently, the main lines of research focus on reviving ancestral varieties, adapting the vineyard to climate change, isolating and identifying indigenous yeasts, and improving methods of analysis and the process of stabilizing and preserving wine.
Some research projects form part of larger European projects like INNOWINE and MyCORRAY or Spanish projects financed by the Center for the Development of Industrial Technology (CDTI), an entity that answers to the Spanish Ministry of Economy and Competitiveness. This includes VINySOST and INCOMES, which primarily study wine stability, environmental factors, and the effects of phenolic compounds in wine on human health.
For the construction of its new microvinification facility, Bodegas Torres received an innovation grant from the Common Market Organization (CMO). The new winery reflects Torres's vocation for excellence and its clear commitment to RDI (Research, Development and Innovation). The company invests over one million euros a year into research projects in the fields of enology and viticulture.
Bodegas Torres takes 1st position in the "World's Most Admired Wine Brand" ranking by Drinks International
Bodegas Torres has been voted as the nr 1 "World's Most Admired Wine Brand" in the ranking produced annually by the leading British magazine Drinks International. After having been the second most highly rated wine brand for the last three years, Torres has finally managed to lead this world ranking, becoming the first Spanish and European winery awarded with this distinction.
The ranking is the outcome of a survey among more than 200 top international buyers, sommeliers, journalists and masters of wine, who were asked to consider many different criteria, such as whether a wine is of a consistent or improving quality, how it reflects its region or country of origin, how it responds to the needs and tastes of its target audience, how well it's marketed and packaged and whether it has a strong appeal to a wide demographic.
General Manager Miguel Torres Maczassek - 5th Generation of Torres – feels extremely proud and honoured to receive such an award: "We want to express our gratitude not only to the members of the jury, but also to all our loyal supporters all over the world. They are the ones who keep us working to make better wines every day. I believe that our whole team, from those who work in the vineyards to the sales force, all make an effort to meet the expectations of our wine lovers. We live to keep our promises to those who trust us when choosing a wine."
Moreover Mr Torres highlighted: "My father has been crucial during the past decades guiding the winery towards higher levels of quality, as well as promoting our single-vineyard (Finca) wines. Every wine we produce is an individual wine. For us the Torres brand is a statement of quality: we do not change our wines because of short-term trends in the market, we focus on a long-term relationship with our consumers based on quality and consistency."
The "World's Most Admired Wine Brand" ranking has been announced recently in the latest issue of Drinks International. The magazine has a circulation of 10.000 every month and is distributed in 67 countries, being defined as the leading publication in the world for the spirits, wines and beers market.
Close