My Column
MY TOP TEN WINES IN 2019
Please notice that 2018 wines are not included since they are not bottled yet.
1. Lafite Rothschild 2016 100p
2. Cheval Blanc 2000 100p
3. Cheval Blanc 2009 99p
4. Lafleur 2016 99p
5. Lafleur 2015 98p
6. Pichon Baron 2010 98p
7. Pichon Comtesse 2017 97p
8. Beychevelle 1949 97p
9. Leoville Barton 2016 96p
10. Les Carmes Haut Brion 1953 96p
MY TOP TEN WINES IN 2018
Please notice that ratings on 2016 wines are from recent tastings after bottling.
1. Lafite Rothschild 1908 99p
2. Tertre Roteboeuf 2016 99p
3. Leoville Las Cases 2015 98-99p
4. Pichon Comtesse 2016 98-99p
5. Trotanoy 2016 98-99p
6. Haut Bailly 2016 98p
7. Belair Monange 2016 98p
8. Les Carmes Haut Brion 2016 97p
9. Pontet Canet 2016 97p
10. Calon Segur 1918 96p
10. Beasejour Duffau 1918 96p
10. Grand Puy Lacoste 1918 96p
MY TOP 10 WINES 2017
1. CH. MARGAUX 2015 100p
Tasted twice - last time in October 2017. Consistent notes. Grand Vin is 38% of total crop and composed of 87% Cabernet Sauvignon, 8% Merlot, 2% Petit Verdot and 3% Cabernet Franc. All in silk, epic wine. Exceptional concentration, richness and complexity, super strong backbone, elegant and sophisticated, perfectly balanced, incredibly aromatic, extraordinary finish. For sure, this is wine of the 2015 vintage in red. A great, great testimony/hommage to Paul Pontallier!
2. LATOUR 2005 100p
Tasted five times - last time in April 2017. Consistent notes. When tasted in 2008, it had almost coal-black color, dense and with powerful nose of black cherries, blueberries and blackcurrants. Incredibly sophisticated and multidimensional on the palate with enormous load of super ripe berries and silky tannins, stunning balance and aromatic fruit of highest quality. Finished with an aftertaste, which lasted for about two minutes. It's already legendary and it's sure bet for 30-40 years of cellaring. A little bit less impresive when tasted 7 years later (2015). In April 2017 - closed at first sniff but immense potential waiting to come forward, extremely rich, complex and long. Everything is here to make this wine a legend. 99-100p.
3. MOUTON ROTHSCHILD 2016 100p
Tasted in April 2017. (83% C.Sauvignon + 15% Merlot + 1% C.Franc + 1% P:Verdot). Aristocratic nose of blackberries, cigar box and tobacco leaves, classy stuff with great acidity, velvety all over, stunning richness and structure, excellent complexity, powerful finish. Immensly complete wine. My pick for the best wine of the vintage on the Left Bank!
4. YQUEM 2015 100p
Tasted four times - last time in December 2017. Consistent notes. Unctuous, fabulous acidity and richness, intensity and concentration, fantastic complexity, depth and length. Heavenly stuff!
5. TERTRE ROTEBOEUF 2010 100p
Tasted five times. This wine is no less than phenomenal now after bottling. It's fifth time I tasted it and ageing in oak seems to have kicked this wine even higher up in quality. What an intensity, opulence, richness, length, depth, velvety fruit and tannin, silkiness all over. Wow!!
6. LAFLEUR 2016 99p
Tasted in March 2017. This wine was big, broadshouldered with classy and sophisticated nose of black fruit, velvety texture, rich, incredibly complex and long. Distinguished beauty to remain beautiful for many, many years.
7. LE PIN 2016 99p
Tasted twice - last time in October 2017. Awesome wine here, 100% Merlot, low yield per ha (only 28 hl!), would have liked to compare it to 2015, but it wasn't possible as 2015 was resting in vats for upcoming bottling. Very distinguished, refined, rich, velvety wine with stunning complexity and depth Btw, 2016 is the first vintage at the property to be harvested in October (4th-8th)!
8. AUSONE 2016 98p
2016s here are very similar to 2015s.
9. LEOVILLE LASCASES 2016 98p
Tasted in April 2017. 75% Cabernet Sauvignon, 14% Merlot and 11% Cabernet Franc. Twin brother of 2015 vintage, but more distinguished and with more elegance. Bull's eye once again!
10. MOUTON ROTHSCHILD 1937 97p
Tasted in April 2017 during dinner at Domaine de Chevalier. Fabulously scented nose and palate with truffles, tobacco and graphite, incredibly elegant and sophisticated, long, long finish.
Here is my top ten wines of 2016:
1. Montrose 1990 100p
2. Latour 2000 100p
3. Lafleur 2000 100p
4. Le Pin 1990 99p
5. Cheval Blanc 1990 99p
6. Lafite 2000 99p
7. Montrose 2010 99p
8. Yquem 1986 98p
9. T. Roteboeuf 2000 98p
10. Certan de May 1982 98p
Merry Christmas and a Happy New Year to you too all!
THAT'S THE WAY TO CELEBRATE 70TH BIRTHDAY!
On Friday, the 9th December 2016, at restaurant Le Sommelier in the center of Copenhagen, I held my pre-birthday party (I'll pass the 70th milestone of my life in the end of December 2016). I treated my friends and myself with 1 champagne, 3 white dry wines, 20 red wines, 2 sweet white wines and one Armagnac, accompanied by appetizers to champagne, 6 courses, 1 dessert and one birthday cake.
We were only 6 participants due to late cancellations. Anyway I immensely enjoyed a great, great company of Danish wine-friends, my daughter and Olivier Bernard from Domaine de Chevalier. We've had a stellar evening. Not a single wine served that evening was corked or oxidized. Many wines were simply stunning and lived fully up to their reputation and fame. All wines were tasted blind and even me, who knew which wines were served in each flight, didn't know the order of these served. Wines were chosen according to last digit in my birthday year (6) for whites (dry and sweet) and 0 for reds (as I celebrated 70 years). You will think it was outrageous to serve so many wines? - not really imho, you only live once!!
Excellent food was cooked by Chef Christian Marquard and wines were very professionally cared for by young Daniela Mylin, chef of the restaurant/chef sommelier of Le Sommelier. Historic tasting and one I never forget thanks to my precious friends!!
Tasting notes – relatively short ones as I had taken care of my guest and there wasn't time to write big stories about each wine.
1. Champagne Dom Perignon Rose 1996 – really impressive stuff, virile, sophisticated, rich, great acidity and sweet tones. Awesome to enjoy. 97p.
2. Dry whites – three wines. 1976 D.D.Chevalier had a little touch of oxidation, which disappeared quickly, and showed nice acidity and concentration. Getting old. 89p. 1986 D.d.Chevalier was simply impressive stuff with great acidity, vitality, depth and long aftertaste. Tasted young and fresh despite being 30 years old. 94p. 1996 Chablis Les Clos from Vincent Dauvissat had fine smoked tones of stones, penetrating nose of melted butter and long aftertaste. A bit caught by age and imho it'll not improve. 93p.
3. Red flight 1 with title "Up and running" – Les Carmes Haut Brion, Seguin and Belle Brise, all in 2010 vintage. I've never tasted the two last mentioned wines together, so it was a kind of test. L.C.H. Brion was muted, light in concentration and structure. It was surprising when you take the quality of 2010 vintage in general. Since arrival of new manager/winemaker Guillaume Pouthier in 2012, the quality took a big step up. 89p. Seguin from village of Canejan in Pessac-Leognan AOC (my discovery while touring Graves/Pessac Leognan in September 2010) had an intense nose of cherries, excellent structure and depth, exquisite balance and long persistent finish. Utterly impressive stuff. 95p. Last wine in the flight was Belle Brise from Pomerol, my discovery also but since 1996. This miniscule vineyard/garden is situated very close to Libourne. Strong with modern taste, very cherry, catching sweetness of fruit and tannin, silky fruit and tannin. Long and persistent finish. Fabulous wine. 95+p. No oenologist, no consultant and no modern remedies here – "vin au naturel"!
4. Red flight 2 with title "Magic" – Tertre Roteboeuf 2010-2000-1990 and Domaine de Chevalier 1990. 2010 TR tasted more like kirsch than wine, but I'm pretty sure the alcohol will soon integrate. Otherwise, it was big, packed with silky fruit and tannin, immensely flavoured and long. 96p. 2000 TR was epic wine with intense nose of truffles, formidable structure and depth, stunning precision, focus and complexity, and mega long aftertaste. Boom! 98p. 1990 TR tasted lighter and not so highly impressive as last time (in 2011) and was clearly surpassed by 2000 version. 92p. 1990 D.d.Chevalier ("black horse" quickly detected by tasters) showed truffy nose, very good complexity and very good length. Fruit tasted a bit warm. 89p.
5. Red flight 3 with title "Sky is the limit" and six wines in 1990 vintage. Beausejour Duffau was kind of disappointing if you take its fame in the context. One of my guests tasted this wine many times in the recent years and told me it was much better 10 years ago. Fine complexity but not striking concentration and richness. 93p. Angelus didn't hit the bull's eye either. Was better too 10 years ago. Truffy, not as powerful as expected, not rich and long as expected. 93p. Montrose once again delivered. It's easy to fall on your knees and worship this wine, because it's simply phenomenal one and masterpiece of winemaking. 100p. Troplong Mondot was a stunning mouthful with everything in perfect harmony. One of my guests said to me that this wine was disguised as a port. Frankly, I didn't care. I loved it! 97p. Cheval Blanc matched Montrose to great extent with Cabernet Franc at full blossom. Fascinating and riveting display of richness, sophisticated touch and variety of flavours. 99-100p. Le Pin was more kinky and funky than Cheval Blanc, but equal in every aspect to it. Merlot was the showcase. 99-100p.
6. Red flight 4 with title "Another day in paradise" and four wines in 2000 vintage. La Mission Haut Brion tasted closed but its all cylinders were fully loaded, just waiting for perfect time to show all the fabulous things. Patience required. 96-98p. Lafleur was just timeless treat, so dense, so sophisticated. Paradise! 100p. Montrose stood up against big hitters here but wasn't trashed at all. Strong potent and very long finish. 96p. Lafite is just perfect if you want to enjoy finesse, grace and richness of nuances. That was exactly what we had in 2000 plus striking structure, depth and balance. 99p.
7. Red flight 5 with title "As time goes by" and three wines in 1950 vintage, all chateau bottled. Pavie (B-niveau) was just awesome like well-trained 66 years old guy running marathon. Very cherry, strong, long and in perfect balance. Still many years to go! Some of my guest took it for 1982 vintage! 94p. Leoville Las Cases, the one with lowest stand, tasted old like extracted coffee beans. Gone. 75p. Troplong Mondot, despite low stand close to C, made by cousin of owner of Pavie at that time, Valette, was as similar and as impressive as Pavie. 94p.
.
8. Sweet whites – two wines in 1986 vintage. Gilette had a significant flavor of almonds, great sweetness and acidity, great depth and backbone, long and velvety on the palate with strong and fat finish. Aged for 20 years in small concrete vats for 20 years and no wooden vats/barriques here. 96-97 p. Yquem edged Gilette in terms of depth, sophisticated touch and nuance richness but only and just that. 98p.
9. Dinner finished with awesome 1945 vintage Armagnac "Fontaine de Coincy", same owner as previously mentioned Belle Brise in Pomerol. De Coincy family has owned their property in Bas Armagnac for 400 years.
2016 WILL FOR SURE BE AN AWESOME VINTAGE THAT FOLLOWS IN THE TRACKS OF 2010 AND 2015!!
Perfectly ripe 2016 Cabernet Sauvignon grapes at Chateau Seguin in Pessac-Leognan
Birth of 2016 vintage - it will be a beautiful child....
I spent 8 days in Bordeaux between 20 and 27th October, checking the reports beforehand which have said that 2016 is going to be a stunner vintage. I have tasted as many samples as possible of juice after alcoholic fermentation - unbelievable black color, silky tannins and fresh, vibrant fruit, stunningly concentrated. General opinion is that 2016 will surpass 2015 many places and rival 2010 to great extent! I support this 100%!
Main points of how 2016 growing season went on:
1. Bad beginning of the spring but perfect flowering promising normal yield.
2. Fine summer and no rain in almost 3 months, so the welcome rain came in the end of September, 40-60 mm, just what vines needed. Sunshine, sunshine and sunshine.
3. Harvest took over 1 month many places with big difference between day and night temperatures, allowing perfect ripeness of grapes inside and outside plus freshness and many aromas.
4. All grape varietes did excellently. High ITP (Index Total Polyphenols) like in 2010.
Highlights:
1. Les Carmes Haut Brion - Manager Guillaume Pouthier says 2016 will probably be his best vintage ever here. 2016 samples were extremely promising.
2. Haut Bailly - many samples of 2016 juice after alcoholic fermentation, among others C.Sauvignon and Merlot from over 100 years old vines. Cellar master Gabriel Vialard has been extremely satisfied with what he has in vats/barrels! Maybe the best vintage for the property in last 50 years!
3. Bourgneuf - also great expectations for 2016 here from Vayron family.
4. Lafleur - stunning 2015 and 2014, all smiles for prospects of 2016.
5. Belle Brise in Pomerol - extremely promising 2016 juice.
6. Olivier Bernard from D.d.Chevalier compares 2016 white to 2009 vintage and 2016 red to 2010 vintage. He says, there was no rush to harvest Cabernet Sauvignon grapes as there were plenty of time to wait for optimum ripeness.
7. Cantenac Brown - great visit, several vintages to taste of red (2015-2014-2013-2012-2011-2010), tasted also white Brane Cantenac (Alto) which was surprisingly well-made. Great 2015 red which edges 2010, fine 2014 and 2011 while 2012 gives very much pleasure. Great hopes for 2016 here also.
8. Moutte Blanc - a property in Macau, produces 100% Petit Verdot cuvée called Moisin, also other cuvées. Tasted 2015 and 2014. I liked 2015 better. Fine quality for money. Moutte Blanc is produced from vines growing in Haut Medoc and near Monbrison in Arsac from 0.75 ha 100% Merlot. The latter vineyard got permission from INAO to use Margaux appelation on the label beginning with 2014 vintage. Splendid 2015 for both Moutte Blancs.
9. Seguin (Pessac-Leognan) - fine 2014 and 2015, 2016 promises quite a "paradise".
10. Great, great visit at Figeac, 1.5 hours entertaining visit with the winemaker Frederic Faye, great improvements are visible. Fabulous 2015 vintage with excellent focus and precision, 2016 maybe even better says F. Faye. I tasted vintages 2012-2013-2014-2015. 2012 is F. Fayes' first vintage at Figeac, but he's been at the property for 14 years now.
11. Tertre Roteboeuf - 2016 promises heaven but 2015 TR was simply otherworldy!
Interesting visits:
1. I was persuaded by my friend to go to Chateau Julia, a property well-hidden of the beaten tracks in neighbor commune to Pauillac, Saint-Laurent. It's run by a woman, Sophie Martin, who before creating Julia sold her grapes to a cooperative. Quite well-made wines which would be even significantly better, if she had the necessary funds to buy better equipment. Julia is both Haut Medoc and Pauillac wine, meaning there are vines growing in both appelations. The latter has vines growing on excellent soil between Lynch Bages and Latour. Despite many attempts from chateau owners in the area to sell her vineyard in Pauillac, she firmly refuses to do so.
2. Visiting Chateau Tour Saint Christophe. Interesting to visit because of Chinese investments in Bordeaux. Peter Kwok created Vignobles K group in 2014 and it own 5 properties on Right Bank, Haut Brisson and Tour Saint Christophe in Saint Emilion, Enclos Tourmaline and La Patache in Pomerol, and Enclos de Viaud in Lalande de Pomerol. The experienced Jean-Christophe Meyrou is manager of the group. One Saturday in October I went to Tour Saint Christophe, a property situated magnificently on the border of Saint-Emilion and Saint-Christophe des Bardes. The view from there towards Troplong Mondotte is breathtaking. I tasted 2015 vintage of all properties except Enclos de Viaud. Haut Brisson (90% M+10% CF) had earthy flavours, ripe black fruit and tannin, strong backbone,fine acidity, fine balance and persistent finish. 89p.Tour Saint Christophe (80% M+ 20% CF) was much better wine than HB with more power, concentration and depth. Ripeness of both fruit and tannin was better here. Delightful wine for keeping. 92-93p. La Patache (85%M + 15% CF) from sandy part of Pomerol showed violets and black fruit, also some extraction and earthy flavours, was a little bit tired (racking?). Quite good one. 88-89p. Enclos Tourmaline which consists of four plots in the best part of Pomerol (Le Plateau Argileux) is made in very modern style with vinification of whole clusters, 100% new oak, etc. For my taste, despite this wine splendid intensity and acidity, it looked a bit overdone and too extracted. Very modern style. 92+p. They are very enthusiastic with 2016 vintage at Vignobles K and I hope they will back down a bit with extraction and stems at Enclos Tourmaline, so 2016 will be fruitier and fresher. Nevertheless, it's a property to follow closely.
Great view from Tour Saint Christophe towards Troplong Mondot
Sandy gravel, limestones and clay - components of great soil here at Tour Saint Christophe
3. Grand Cercle tasting of 85 reds in vintage 2014 and 20 whites in vintage 2015. Reds were up and down, Saint Emilions were the best. Whites were of very fine quality. Tasting took place at Chateau Croizilles, situated close to La Mondotte and Tertre Roteboeuf. View from here to vineyards of Saint Emilion is priceless.
85 2014s in red at La Croizille
Simply magnificent view over vineyards in Saint-Emilion from La Croizille
CHÂTEAU PALMER - PRINCE OF MARGAUX
Château Palmer is one of the few remaining aristocrats among Bordeaux wines. Palmer has neither let it influence by present acrobatics in vinification, technical sidesteps and modern trends. This property has kept hard by the classic style – some would mean genuine Bordeaux style – where ripe fruit and ripe tannin compliment each other in the best possible way. Here, aromatic finesse and elegance is mixed in finest possible way with power and sappiness on the palate, sophisticated structure and exquisite balance. This is exactly what Bordeaux is famous for and something wine producers from all over the world try to incorporate in their wines. Even if Château Palmer is only classified as 3.Growth according to 1855-classification, it's far better than its present classification. Sublime and aristocratic wine!
PERFECTLY SITUATED
Palmer is situated in Haut-Médoc on right side of the so-called "Route de Vin", half-way between Cantenac and Margaux communes, with only few kilometers away from Gironde river. It covers 55 ha of vines growing on mainly gravelly soil with quartz stones in different sizes. The composition of grapes varieties used is classic: 47% Merlot, 47% Cabernet and 6% Petit Verdot. Average age of vines is 38 years.
WINES
Today, two wines are made at Palmer. Grand Vin which bears name of the property and Alter Ego (since 1998). Alter Ego isn't a typical second wine of Palmer, more like a blend of cuvees from different parcels of the vineyard, which don't have quality required for Grand Vin.
Harvest is done manually and both wines undergo in temperature controlled stainless steel vats. Only through the end of malolactic fermentation, wine is transferred to oak barrels. It's not filtrated, only clarified with egg-whites. Palmer spends 20-21 months in 50-70% new barrels, while Alter Ego gets 17-18 months in 25-40% new barrels.
In April 1990 I participated in tasting of 18 vintages in Copenhagen, which took place at one of the best restaurants in Denmark, "Kong Hans". Charles Sichel represented Palmer at this tasting. We tasted following vintages: 1986-85-83-82-81-79-78-76-75-70-67-66-62-61-59(DK)-59-55-52. Unforgettable experience!! 1961 Palmer was otherworldy!
In 2007, during two Palmer tastings, one for Commanderie de Bordeaux and one for wine-sommeliers, I tasted vintages 2003, 2002, 1998, 1991, 1990, 1986, 1981 and 1970 among other wines.
In May 2014 another tasting of Margaux took place for members of Commanderie de Bordeaux. It was conducted by Chris Myers, Palmer's sales director and it offered following vintages: Alter Ego 2009-2005-2004, Palmer 2008-2006-2004-2001-1999-1996-1989-1985.
At private tasting on 15th October 2015 in Copenhagen, I tasted Alter Ego 2003 and 2005, plus Palmer 2005-2001-2000-1990-1988-1985-1979-1967.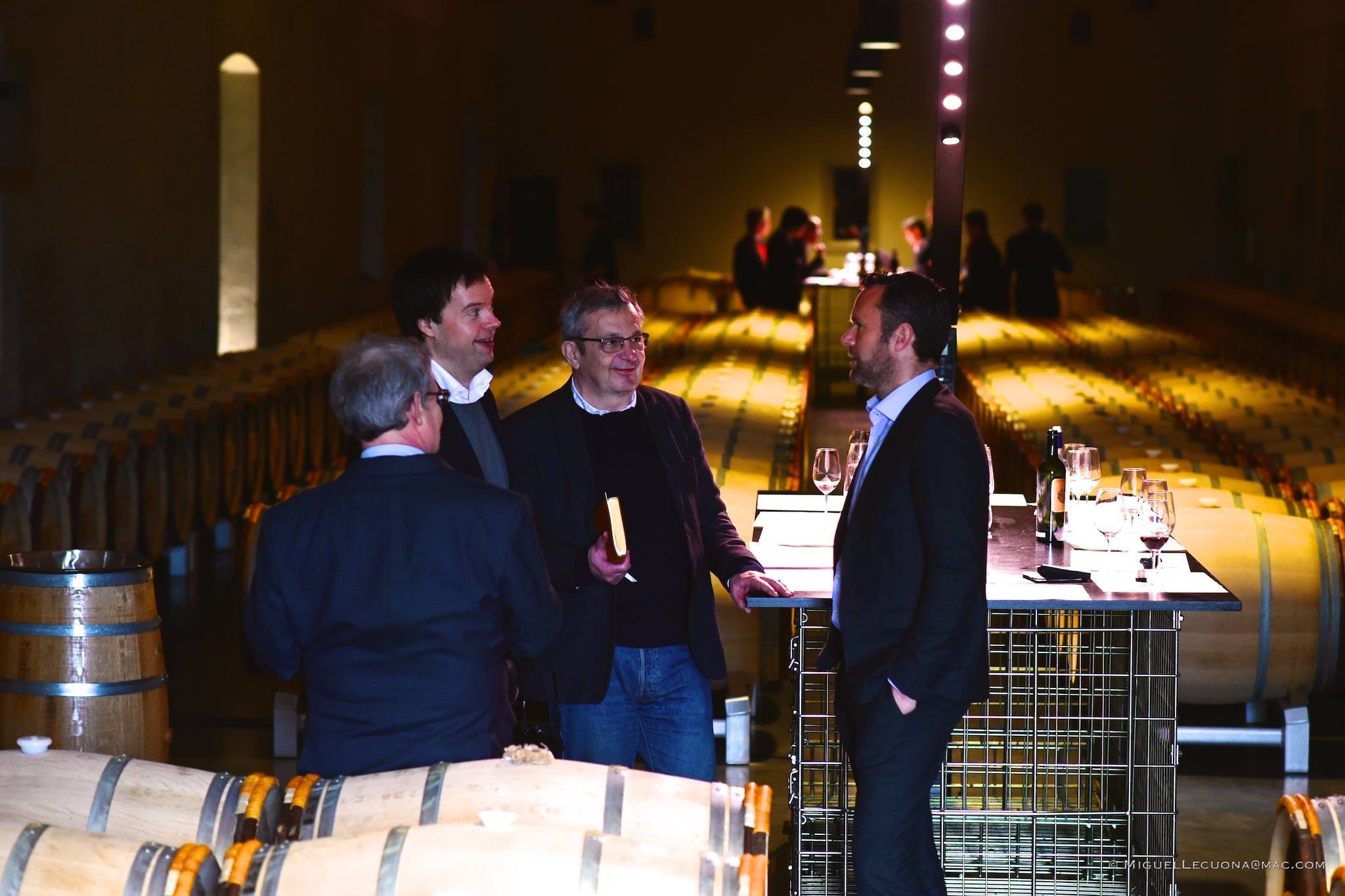 Awesome picture taken by my friend Miguel Lecuona at Chateau Palmer on the 31st March - we were all thrilled with 2014 vintage there! Chris Myers did the talking, we tasted!
---
2015 Palmer (barrel sample) 96+p
Tasted in April 2016. Grand Vin was as always aristocratic with its refined and sophisticated touch, richness, intensity, structure and long finish. Fabulous future waits.
2014 Palmer (barrel sample) 96p
Tasted in March 2015. Big wine but still showing aristocratic touch, high acidity, strong structure, excellent depth, richness and long meaty finish.
2013 Palmer (barrel sample) 92-93p
Tasted in April 2014. Oaky, great acidity, on the light side, elegant and with very fine complexity and structure. Will it put on weight when in bottle?
2012 Palmer 95+p
Tasted three times - last time in October 2015. Consistent notes. It showed great class and style with excellent aromatic nose of black cherries, richness, velvety palate, excellent structure, balance and very long finish. Fabulous wine for the vintage.
2011 Palmer 95+p
Tasted three times - last time in October 2015. Consistent notes. This wine was aristocratic, powerful though refined with fabulous balance and fabulous finish. Stunning effort.
2010 Palmer 99p
Tasted three times - last time in September 2013. Consistent notes. This wine had incredibly scented nose and palate, black cherries and Varlhona chocolate everywhere, awesome complexity structure and length, fat fruit and tannin on the palate. Very sophisticated wine with both power and extreme elegance. Heavenly stuff.
2009 Palmer 97p
Tasted three times - last time in October 2015. Consistent notes. It had very seductive aroma of dark cherries, great intensity and concentration, silky tannins and graceful finish. Very stylish and sophisticated wine with extremely well established combination of elegance and power. A wine of great charisma and excellent quality.
2008 Palmer 96p
Tasted three times - last time in May 2014. Consistent notes. More of everything here compared with 2006. Sappy, riper fruit with a lot of sweetness. Complex, refined and long finish. Great intensity of dark cherries on the nose and palate. Stylish wine with great depth and structure. Petit Verdot was included in the blend and it shows – strong backbone. Great effort for the vintage and this wine will keep for a long time.
2007 Palmer 92p
Tasted twice - last time in October 2010. Consistent notes. It expressed in its special own way seductive aroma of dark cherries, soft texture, silky tannins and soft finish. Very stylish and gracious wine, and therefore so typical for the commune. Now in bottle and it's fulfilled the promises when tasted from barrel. Splendid effort for the vintage.
2006 Palmer 94p
Tasted four times - last time in May 2014. Consistent notes. Tight and tannic wine, Cabernet Sauvignon shining. Rather powerful than elegant, splendid backbone, depth and complexity. Firm and long finish. Still not quite developed yet and I think this wine needs more than 10 years from now to be approachable. No Petit Verdot in this vintage for Palmer.
2005 Palmer 98p
Tasted four times - last time in October 2015. Consistent notes. Palmer was as always a perfect example of beautiful elegance and finesse, the goodies Margaux commune is so famous of. This was a complete wine and a heartbreaker of rarely seen caliber. Decadently rich and multifacetted. Aristocratic and sophisticated wine with a really long life ahead. 20-30 years and maybe even longer.
2004 Palmer 95p
Tasted three times - last time in May 2014. Consistent notes. Always one of my favorite Palmers. Extremely elegant and very aromatic wine with much finesse, silky texture and tannin. Fabulous complexity and depth, stunning balance. Long and sweet aftertaste. Aristocratic. Will have a long and great, great life.
2003 Palmer 92p
Tasted in April 2007. Deep red. It had really splendid nose of aromatic Mirabelle plums in the beginning and was fresh all over. Later, both nose and palate took on blackcurrants/blackcurrants drops. This was quite concentrated and powerful wine on the palate, showing splendid intensity of fruit, refinement and fine length, although not quite typical for the property. It finished with long and strong aftertaste. 12-18 years horizontally in the cellar.
2002 Palmer 94p
Tasted in April 2007. Darker color than in 2003 Palmer! It had an incredible depth on the nose with glorious intensity and refinement, and strong aroma of blackcurrants and raspberries. This wine was very rich, strong and sophisticated on the palate with formidable balance, finesse, length, structure and aristocratic touch all over the place. It's luxurious enjoyment now and it will be like that in the next 18-25 years. For sure, this is one of top wines in this vintage.
2001 Palmer 93p
Tasted three times - last time in October 2015. Consistent notes. Really fine and aromatic on the nose with red berries. Vivid and flavorful on the palate. Ripe fruit and tannin. Quite complex and with fine depth. Soft finish.
2000 Palmer 96p
Tasted in October 2015. Fabulous wine with stunning nose, richness on palate, awesome complexity, remarkable acidity and classy finish. Top effort for the vintage.
1999 Palmer 96p
Tasted three times - last time in May 2014. Consistent notes. 48% CS, 46% M and 6% PV. Probably in top three in this vintage. This wine has always impressed me. Very aromatic dark berries with great intensity. More concentrated, riper and sweeter fruit than in 1996, tight, great finesse and elegance, aristocratic, stunning balance, fabulous complexity and depth. Incredibly stylish and classy. To enjoy in the next 20 years.
1998 Palmer 93+p
Tasted in April 2007. Black red. Classic Bordeaux style with strong tannins and concentrated fruit, which keep each other in "hand", so neither tannin nor fruit breaks out in solo performance. This wine's had little development and needs therefore time to show true face of Palmer. Palmer. Absolutely worth waiting for.
1996 Palmer 95p
Tasted three times - last time in May 2014. Consistent notes. 55% CS, 40% M, 4% CF and 1% PV. Already on the nose it is obvious, that Cabernet Sauvignon was the winner in this vintage. The ripeness of CS in this vintage was better than Merlot's. Mint, leather and cigar box on large scale. This wine was beautifully constructed, refined and with concentrated shape, powerful and sappy. This is textbook Palmer – beautiful wine which easily can keep its excellent ingredients in additional 20 years.
1995 Palmer 92p
Tasted twice - last time in June 2012. Consistent notes. Deep red. Powerful nose of ripe blackcurrants and raspberries. On the palate it was chewy, well-constructed with fine balance and fine aftertaste. This was a bit lighter wine than usual for the property, but nevertheless a wine you really would enjoy without any complaints. This one should keep for additional 10-15 years.
1991 Palmer 90p
Tasted in September 2007. Deep red. Very aromatic on the nose with chocolate powder and prunes. Soft and round on the palate with ripe fruit. Super effort for this difficult vintage, thanks to neighboring Gironde river, which kept devastating black frost in April away from Palmer. Drinks very well now.
1990 Palmer 94p
Tasted twice - last time in October 2015. Not consistent notes. In 2007 it had a very developed color for the vintage - medium red. Aromatic with cherries, seemed very mature, well-balanced and very nice to drink. A very enjoyable Palmer, which should keep like that for 4-6 years more. I doubt this bottle came from the cellar of Palmer. In October 2015, I had a great bottle with deliciously ripe fruit, very aromatic and complex, great sweetness of the fruit and sophisticated touch on palate.
1989 Palmer 93p
Tasted in May 2014. Sweet fruit, a bit alcoholic and warm, quite aromatic, fine balance and complexity, long soft finish. This bottle didn't seem to be a perfect example of this vintage for Palmer.
1988 Palmer 91p
Tasted in October 2015. Pure style. Quite complex and refined, fine ripeness of fruit and tannin, but not 100% perfect. Anyway very good effort.
1986 Palmer 93p
Tasted in April 2007. Dark red. It showed superb nose of dark berries, tobacco and liquorice. Splendidly balanced with fine and long palate, plus lasting aftertaste. It did remind in some way of 1996, but 1986 showed less intensity and fewer nuances. Nevertheless, this wine was a stupendous effort for the property and the one to satisfy many wine souls in the next 10-12 years.
1985 Palmer 90p
Tasted in October 2015. Elegant and refined wine, fruity with very good complexity. Tasty and seductive with fruity and smooth finish.
1981 Palmer 88p
Tasted in September 2007. On the light side with spicy fruit. This wine started with somewhat strange flavors, which were not clean. I suspected this wine did suffer from a little oxidation/cork taste, but one hour later these odd flavors luckily disappeared. All in all a nice and round wine to be consumed in the next few years.
1979 Palmer 87p
Tasted in October 2015. Rather light, old style vinification, lacking ripeness of fruit and tannin.
1970 Palmer 97p
Tasted in April 2007. Still young color. It shows incredibly rich, sophisticated and intense on the nose. There were many fruit aromas here, wine appeared extremely well-balanced and with sheer elegance. In the palate, it was multidimensional and with such sophisticated touch, that you simply lost your breath. An aristocratic wine with extremely delightful style and high class, which easily holds 10 more years in the cellar, if stored properly as our bottle was.
1967 Palmer 84p.
Tasted in October 2015. Dusty, wetty flavours on the nose and on the palate, well past its prime.
1966 Palmer (low stand) 95p
Blind tasted in July 2008. The first thing strikes me is the beautiful aroma of truffles, chocolate and cherries. Very Merlot for sure! It's obvious, that this wine is Bordeaux, but which Bank? My first impression is Right Bank, somewhere in the 60's. But it wasn't Right Bank and my friend who offered this wine, leaded me to a Left Bank wine with some good percentage of Merlot. Château Margaux maybe, eh..... Nope, it's the neighbor, Château Palmer 1966! Very stylish, classy wine with striking elegance and finesse, exquisite balance and soft aftertaste. A thrill to drink.
1961 Palmer 99p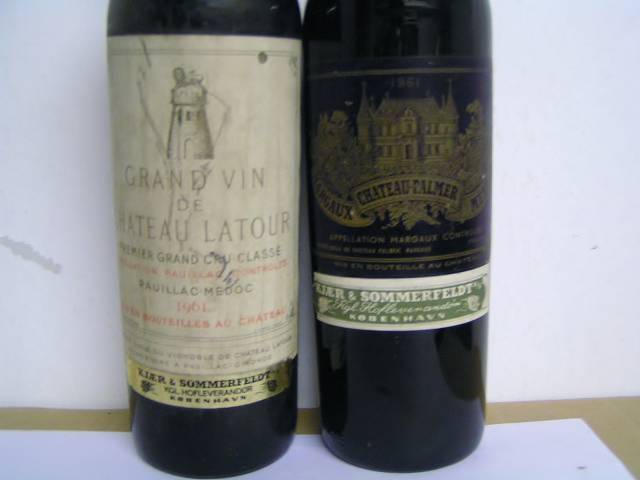 Tasted three times - last time in March 2006. Consistent notes. Deep ruby red color with brown edge. Lots of beatifully scented luscious fruit, silky tannin, incredible balance, sophisticated and refined. This a legendary wine, which hasn't changed significantly since I tasted it for the very first time in 1987. A true dignified aristocrat wine, who firmly has kept its mind-boggling quality during so many years. Simply amazing stuff! Outshined Latour in this vintage.
1865 Palmer 100p
This is the oldest red Bordeaux wine I've ever tasted! And only prephylloxera wine I've ever tasted! It happened in June 1993 during tasting in Arcachon. This wine was recorked at the property in 1990. Very light red color but with simply magnificent and otherworldly aroma of cherries, aristocratic elegance and finesse. A real angelic treat from the past - I'll never forget this wine!!
---
2015 Alter Ego (barrel sample) 93p
Tasted in April 2016. had aromatic nose of black fruit, silky fruit and tannin, velvety texture, excellent acidity, great depth and length.
2014 Alter Ego (barrel sample) 92p
Tasted in March 2015. Spicy fruit, splendid acidity, meaty, splendid depth and fine length.
2013 Alter Ego (barrel sample) 88p
Tasted in April 2014. Fresh, very nice acidity and minerality, on the light side, soft fruit and tannin.
2012 Alter Ego (barrel sample) 91p
Tasted twice - last time in September 2013. Consistent notes. This wine, which represented 45% of whole production, displayed fine ripeness of fruit and tannin, good concentration, silky fruit and tannin. Well-constructed wine and fine effort for the vintage.
2011 Alter Ego 90-91p
Tasted twice - last time in September 2013. Consistent notes. It showed some power, good quantities of cherry fruit and fat ripe tannin and long aftertaste.
2010 Alter Ego 93p
Tasted twice - last time in September 2013. Consistent notes. This wine displayed big concentration, fat and perfectly ripe black fruit and tannin, refined, well-structured and very long. Impressive stuff. 93p.
2009 Alter Ego 91p
Tasted three times - last time in May 2014. Consistent notes. Compared with 2005, 2009 was a step up in terms of concentration and intensity. Compact and tannic, sappy, great structure and complexity, perfect ripe dark berries with catchy sweetness. Impressive stuff.
2008 Alter Ego 89p
Tasted twice - last time in October 2010. Consistent notes. Aromatic, subtle and elegant wine. Smooth aftertaste. Joyful and seductive. Now in bottle.
2007 Alter Ego 87p
Tasted twice - last time in October 2010. Consistent notes. This wine provided very delicate, round and extremely charming attitude and was drinking nicely already. Will entertain while we wait for big vintages to mature.
2006 Alter Ego 89p
Tasted three times - last time in October 2010. Consistent notes. Powerful wine which is quite similar in style to 2004, but imho wasn't so aromatically scented as 2004.
2005 Alter Ego 90p
Tasted three times - last time in October 2015. Consistent notes. Aromatic wine with fine structure. Fatter and meatier than 2004, more tannic, deeper and longer on the palate. Splendid sweetness of fruit and persistent fruity aftertaste. Very, very adorable wine.
2004 Alter Ego 90p
Tasted twice - last time in May 2014. Consistent notes.Intense nose of black cherries and blackcurrants. This was a well-crafted wine with splendid balance, quite rich and with persistent finish. A real heartbreaker wine to enjoy in the next 10 years.
2003 Alter Ego 89p
Tasted twice - last time in October 2015. Consistent notes. This wine contains of 50% Cabernet Sauvignon and 50% Merlot. Aromatic red berries like raspberries, redcurrants and gooseberries, and fine balance on the palate. Graphite and tobacco leaves on the nose. This was a quite well-made wine, which in my opinion will mature rather quickly. It's drinkable already now.
2000 Alter Ego 92p
Tasted twice - last time in September 2007. Consistent notes. Coal black color, dense and deep. Literally speaking, it rolled over 2003 Alter Ego with strong nose of blackcurrants, vigor on the palate, big concentration of fruit and hugely long finish for this beauty. All the things vintage 2000 is famous for, you will find in this eminent wine. This wine will be pure enjoyment in the next 10-15 years.
Read More
Close